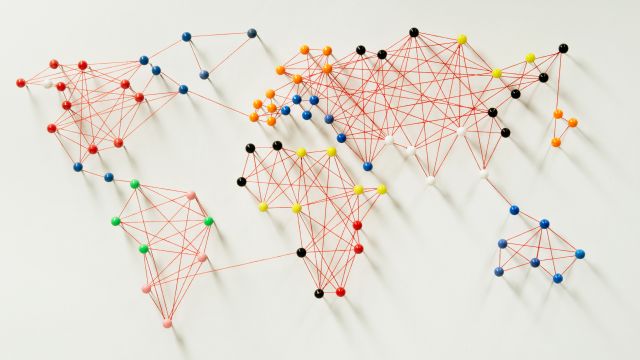 International
Our experts work in international committees, commissions, networks, partnerships and projects to further develop nuclear safety on a transnational basis.
GRS staff members are represented, among others, in working groups of the International Atomic Energy Agency (IAEA), the Nuclear Energy Agency of the Organisation for Economic Co-operation and Development (OECD NEA), the European Nuclear Safety Regulators Group (ENSREG) and the Western European Nuclear Regulators Association (WENRA).
International projects and research 
Around one third of our volume of orders comes from international projects. Half of these are projects financed by federal funds. One of the focal points since the early 1990s has been projects to promote nuclear safety in Central and Eastern Europe. In these projects, we support foreign supervisory authorities by providing advice, know-how transfer or expert work. In addition, we participate in international programmes and projects financed by the EU and international institutions such as the European Bank for Reconstruction and Development (EBRD).
We also work directly on behalf of foreign authorities. For example, GRS performs the tasks of a Technical Safety Organisation (TSO) for the Dutch and British supervisory and licensing authorities and supports them by safety-related investigations and the further development of the respective national nuclear rules and regulations. 
Bilateral cooperation
GRS maintains bilateral cooperation agreements with a large number of expert organisations and authorities in Europe, Africa, America and Asia. These range from regular technical exchanges to joint research and development to consulting on specific technical-scientific issues. 
ETSON - European Technical Safety Organisations Network 
In 2006, GRS founded the European Technical Safety Organisations Network (ETSON) together with the French Institut de Radioprotection et de Sûreté Nucléaire (IRSN) and the Belgian Bel V. Since then, the network has expanded to include TSOs from Finland, Lithuania, Italy, Romania, Switzerland, Slovakia, Slovenia, the Czech Republic and Hungary. Associate members are currently the United Kingdom, Japan, Russia and Ukraine. ETSON is committed to the harmonisation of methods for safety assessments, to the cooperation of its members, and to the promotion of young scientists. The network organises the annual EUROSAFE conference, an international symposium on nuclear safety, radioactive waste management and radiation protection.