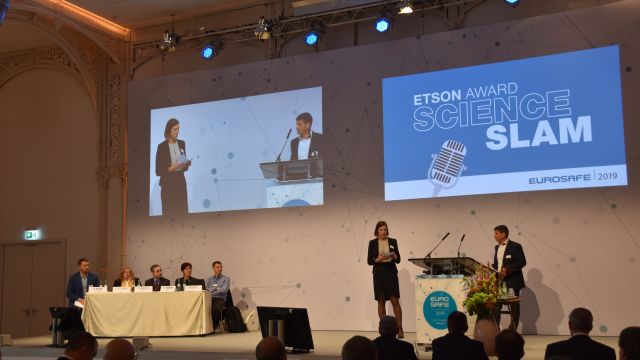 EUROSAFE
EUROSAFE is an international conference on nuclear safety. The event is organised by the European Technical Safety Organisations Network (ETSON).
The different countries' technical safety organisations (TSOs) support their respective national licensing and supervisory authorities in all scientific and technical questions concerning the safety of nuclear energy.
EUROSAFE participants and topics
Since 1999, EUROSAFE has brought together experts from technical safety organisations, research institutes, public authorities, power utilities, the nuclear industry and non-governmental organisations from all over the world to inform and discuss current developments in research and technology.
The conference offers a broad spectrum of relevant content in various formats. The plenary part of the conference is dedicated to presentations by renowned speakers from the fields of nuclear safety, disposal and radiation protection. The technical safety organisations showcase their latest technical-scientific activities and findings and put them up for discussion. Young experts can demonstrate their knowledge at a Science Slam. The TSO Café offers the opportunity to exchange ideas with experts from ETSON member organisations.
EUROSAFE 2021 programme and registration 
The last EUROSAFE took place in Paris on 22-23 November 2021. Information on the programme of the next EUROSAFE and how to register can be found on the ETSON website.